A 21-year-old Russian soldier has pleaded guilty to killing an unarmed civilian in the first trial since Russia invaded Ukraine.
Key points:
Shishimarin pleaded guilty to shooting a civilian who walking down the footpath
He faces life in prison for the crime
A further 40 cases are being prepared by Ukrainian prosecutors against Russians involved in the war
Sargent Vadim Shishimarin could get life in prison for shooting a 62-year-old Ukrainian man in the head through an open car window in the north-eastern Sumy region on February 28, four days into the invasion.
Shishimarin, a captured member of a Russian tank unit, was prosecuted under a section of the Ukrainian criminal code that addresses the laws and customs of war.
Ukrainian Prosecutor General Iryna Venediktova had previously said her office was readying war crimes cases against 41 Russian soldiers for offences that included bombing civilian infrastructure, killing civilians, rape and looting.
It was not immediately clear how many of the suspects are in Ukrainian hands or how many would be tried in absentia.
As the first case for crimes committed during the war in Ukraine, Shishimarin's prosecution was being watched closely.
Investigators have been collecting evidence of possible war crimes to bring before the International Criminal Court in The Hague.
Ms Venediktova's office said it was looking into more than 10,700 potential crimes involving more than 600 suspects, including Russian soldiers and government officials.
With help from foreign experts, prosecutors are investigating allegations that Russian troops violated Ukrainian and international law by killing, torturing and abusing possibly thousands of Ukrainian civilians.
Shishimarin was among a group of Russian troops that fled Ukrainian forces on February 28, according to Ms Venediktova.
The Russians allegedly fired at a private car and seized the vehicle, then drove to Chupakhivka, a village about 320 kilometres east of Kyiv.
On the way, the prosecutor-general alleged, the Russian soldiers saw a man walking on the footpath and talking on his phone.
Shishimarin was ordered to kill the man so he wouldn't be able to report them to Ukrainian military authorities. Ms Venediktova did not identify who gave the order.
Shishimarin fired his gun through the open window and hit the victim in the head, Ms Venediktova wrote.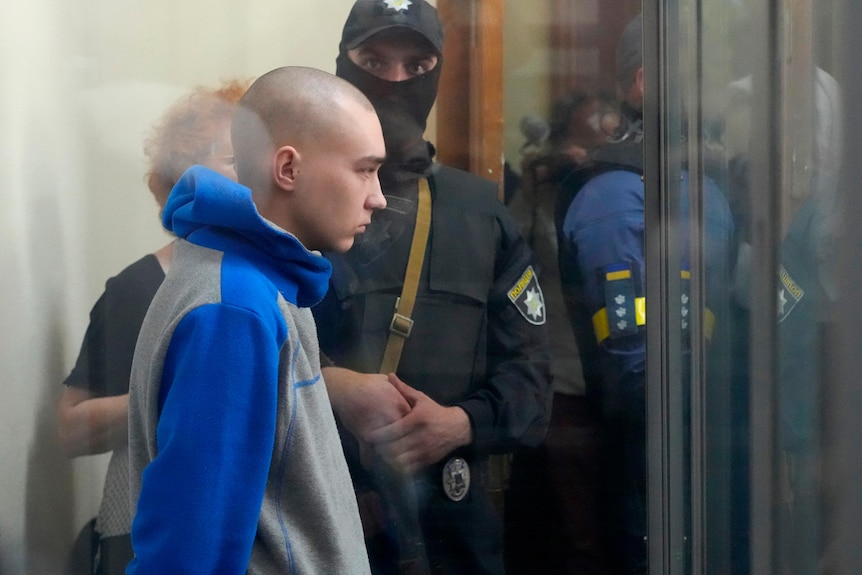 The Security Service of Ukraine, known as the SBU, posted a short video on May 4 of Shishimarin speaking in front of camera and briefly describing how he shot the man.
The SBU described the video as "one of the first confessions of the enemy invaders".
"I was ordered to shoot," Shishimarin said.
Russia is believed to be preparing war crime trials for Ukrainian soldiers.
Russians say senior Ukrainian commanders still in Azovstal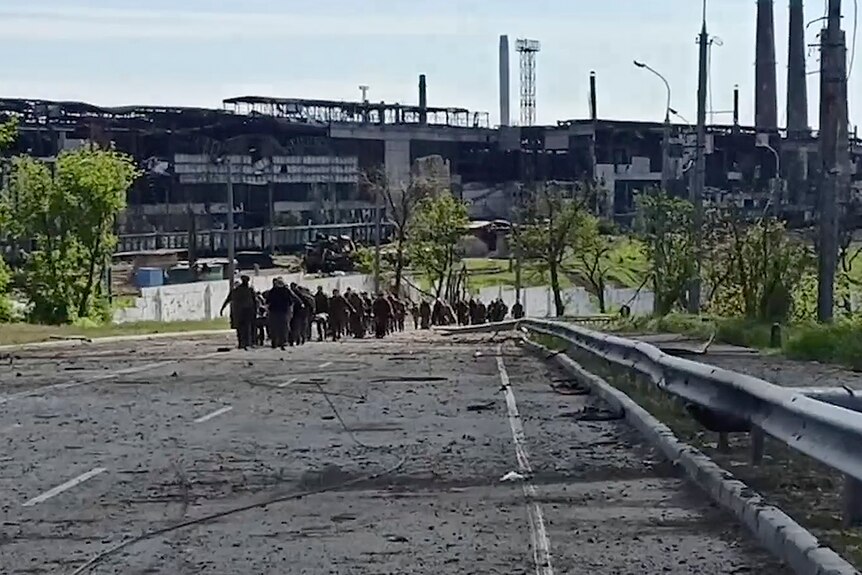 Hundreds more Ukrainian fighters have emerged from the ruins of the Azovstal steelworks in Mariupol but the top ranking commanders are reportedly continuing to hold out. 
Russia's Defence Ministry on Wednesday said 694 more Ukrainian fighters — including members of the Azov regiment — had surrendered, including 29 wounded.
As the most devastating siege in Russia's invasion moves towards a finale, that brings to nearly 1,000 the number of Ukrainian fighters who have so far given themselves up to Russian and pro-Russian forces since Monday.
However, it remained unclear if the top commanders would leave the plant, or possibly even fight a last mortal battle with the Russian forces they regard as occupiers of their country.
"There are no commanders of the highest level [among those who surrendered] — they have not left," said Denis Pushilin, head of the breakaway Donetsk People's Republic which was officially recognised by President Vladimir Putin just three days before the invasion of Ukraine.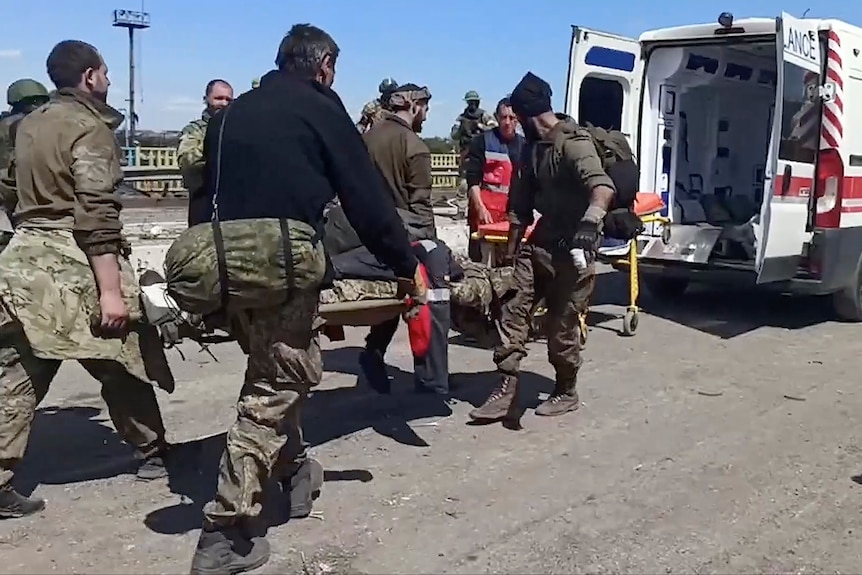 "That is — so far," Mr Pushilin, who along with Russian forces controls Mariupol, was quoted as saying by the Donetsk News Agency.
It was unclear what would happen to the fighters who were cast by Ukrainian President Volodymyr Zelenskyy as heroic resistance fighters but who Russian lawmakers said were "Nazi criminals" who should face the gravest punishment.
Surrendered fighters to face court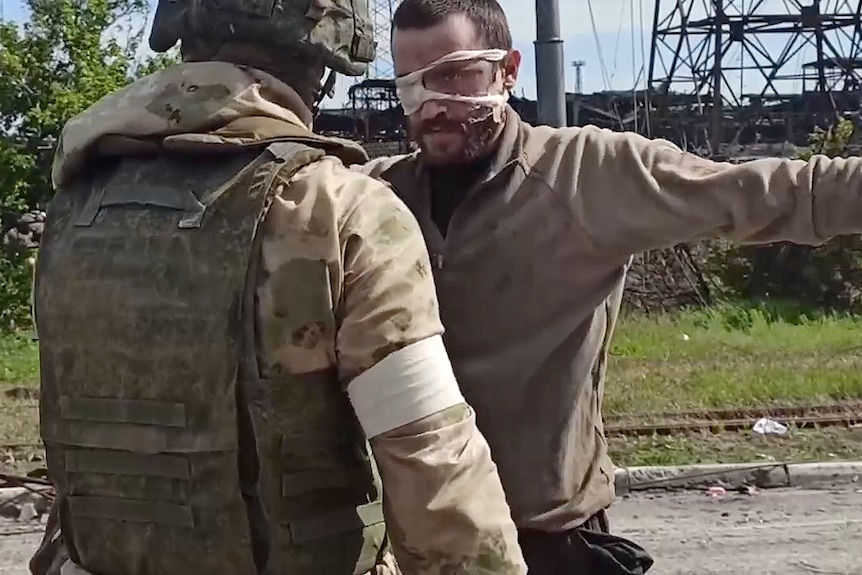 Mr Pushilin said the fate of the surrendered Ukrainian fighters would be decided by the courts.
Moscow says the Azov Regiment, which began as an extreme-right nationalist paramilitary organisation, is a group of radically anti-Russian nationalist fighters and casts them as neo-Nazis.
The regiment, formed in 2014 as a militia to fight Russian-backed separatists, denies being fascist, racist or neo-Nazi, and Ukraine said it has been reformed away from its radical nationalist origins to be integrated into the National Guard.
President Vladimir Putin said what he calls a special military operation was necessary in Ukraine to prevent the persecution of Russian speakers and to prevent the United States using Ukraine to threaten Russia.
Ukraine said Mr Putin is trying to steal the country and denies that Kyiv persecuted Russian speakers.
AP
Posted , updated