"I went through 20 years of receipts and nowhere did this individual's details come up in our system. When I Googled his number, his role on Spender's campaign came up," the business owner said.
Ms Spender said she became aware of the incident early last week.
"This person was identified by the business owner as a worker on my campaign. It is my strong view that businesses should be free to publicly support any candidate they wish. I visited the business immediately and spoke with the owner and offered my sincerest apologies." she added.
Emerald City is told the man in question has since stood down from his position on Spender's campaign.
"I spoke to the campaign worker and indicated this was completely unacceptable, and he offered to resign, which I accepted. He advised me he had apologised to a team member at the store. He is deeply remorseful".
Mary's visit down under no royal affair
Hobart's very own royal, Crown Princess Mary of Denmark, slipped into her home country without any fanfare before her trip to Melbourne sent well-heeled local tongues wagging. Jetting into the harbour city on a Thai Airways flight several days ago it is widely understood the home-grown royal travelled onwards to Hobart where her sister Jane and father John reside.
On her first visit Down Under since 2017, Emerald City understands the private trip was to attend a private family function in Tasmania. However, she managed to make time to visit the bleak city to see best friend Amber Petty, who was a bridesmaid at her 2004 wedding.
In the affluent bayside suburb of Brighton, home to glamorous housewives, AFL WAGs and, notably, the late Shane Warne, the pair spent last Wednesday doing some retail therapy on Church Street.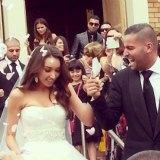 Emerald City confirmed her royal highness snapped up a tailored coral suit retailing for $1450 from celebrated Australian designer Scanlan Theodore. While it's unclear where the princess was residing while in town, sources suggested she'd stayed at Ms Petty's humble Elwood apartment block where two burly security guards sat in wait.
Emerald City is also told the royal is expected to fly out of Sydney in the coming days, returning to Europe on a Thai Airways flight.
This may be one of Princess Mary's last private trips home, having been made an official regent in Denmark, meaning she can now act on behalf of the country's Queen.
The Tasmanian-born princess, who married Prince Frederick after meeting him in a pub in Sydney during the 2000 Olympic Games, will become queen when her husband ascends the throne.
Chicken heiress Jessica Ingham flash designer sale
Has Sydney chicken heiress Jessica Ingham fallen on hard times since falling out in business with her former bestie Roxy Jacenko?
Last week the mum-of-one took to Instagram, where she's building a profile as a social media influencer, and began advertising the sale of her designer clothes and accessories.
The page 'Jess Ingham Wardrobe' that launched last week is proving popular with over 1000 followers including new mum Sarah Budge, girlfriend of underworld figure John Ibrahim. Despite no clothes or accessories currently listed, the socialite flags a strict no exchanges or refunds policy to her potential buyers on her page.
While Jess is busy having a fire sale, her former BFF Jacenko was busy dining at Bondi's Da Orazio restaurant's soft opening on Monday with Ingham's ex-husband Alex Macris. Emerald City hears the PR maven dined alongside Macris, the brother of murdered Sydney gangster John Macris and eastern suburbs personal trainer Lance Judo. In January last year, Ingham confirmed to Emerald City's sister column Private Sydney that the former besties were no longer in business together.
Their longtime friendship has all but disappeared from their respective Instagram pages.
Make the most of your health, relationships, fitness and nutrition with our Live Well newsletter. Get it in your inbox every Monday.